Authorities will be focusing on bicycle and motorcycle safety in the coming weeks.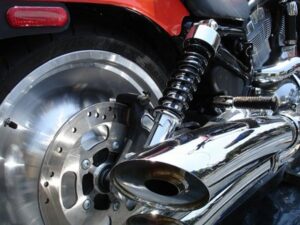 Our personal injury lawyers in Hayward and Winter see an increase in bicycle and motorcycle accidents each spring.
Motorcycle Accidents: May is Safety Awareness Month
The National Safety Council is among the organizations promoting Motorcycle Safety Awareness Month. Each year, about 5,000 riders are killed in motorcycle accidents nationwide and nearly 100,000 are seriously injured.
In fact, while motorcycles account for only 3 percent of all registered vehicles — riders account for more than 13 percent of all road fatalities.
The Wisconsin Department of Transportation encourages all riders to enroll in the Wisconsin Motorcycle Safety Program (WMSP).
However, motorists must also do their part as riders start hitting the roads this spring. Federal statistics continue to show that most accidents involving another vehicle are the fault of the vehicle's driver.
Bicycle Accidents a Summer Risk
National Bike Week runs May 14- 18, culminating in national Bike to Work Day on Friday May 18. Wisconsin Bike Week will be June 2-9th this year.
Wisconsin DOT reports more than 1,100 bicycle accidents a year. While teaching your kids about the importance of bicycle safety is a great place to start, don't forget the husbands. The growing popularity of cycling for recreation and fitness has left middle-aged men most at risk.
Bicyclists and motorcyclists share increased risk because they lack basic protections and safeguards of an automobile. Most recognize and accept these risks and do their best to mitigate them by riding responsibly.
An accident with a motorcyclist or bicyclist is more likely to cause serious or fatal injuries, while non-injury accidents are uncommon. Irresponsible motorists can and should be held responsible for medical bills, lost wages, property damage and the cost of rehabilitative care, including pain and suffering.
Motorists are encouraged to give these riders the right of way — whether or not they think it's their due — because letting them pass is far better than being found responsible for an accident.
Wisconsin personal injury lawyers at the Lein Law Offices offer a free and confidential consultation to discuss your rights. Call 715-403-5045.