Owners of Wisconsin businesses, residences, apartment complexes and other properties have a responsibility to keep their aisles, stairs and walkways free of any transitory foreign substance that might cause invitees to slip and fall. That may include promptly addressing ice and snow that has accumulated, promptly cleaning up spills and, in the case of businesses, regularly checking for potential slip hazards.
Unfortunately, many property owners lapse in this duty of care, and there are numerous loopholes in the law that can make obtaining compensation tricky. The Hayward slip-and-fall injury attorneys at Lein Law Offices are familiar with the law, adept at settlement negotiations and won't hesitate to pursue your claim at trial if necessary.
Slip-and-fall torts fall under the umbrella of premises liability. The National Floor Safety Institute reports there are an estimated 1 million slip-and-falls annually that require hospital emergency room treatment. They are the leading cause of workers' compensation claims.
Those at work aren't the only ones that need to watch out. Other common sites of slip-and-falls include: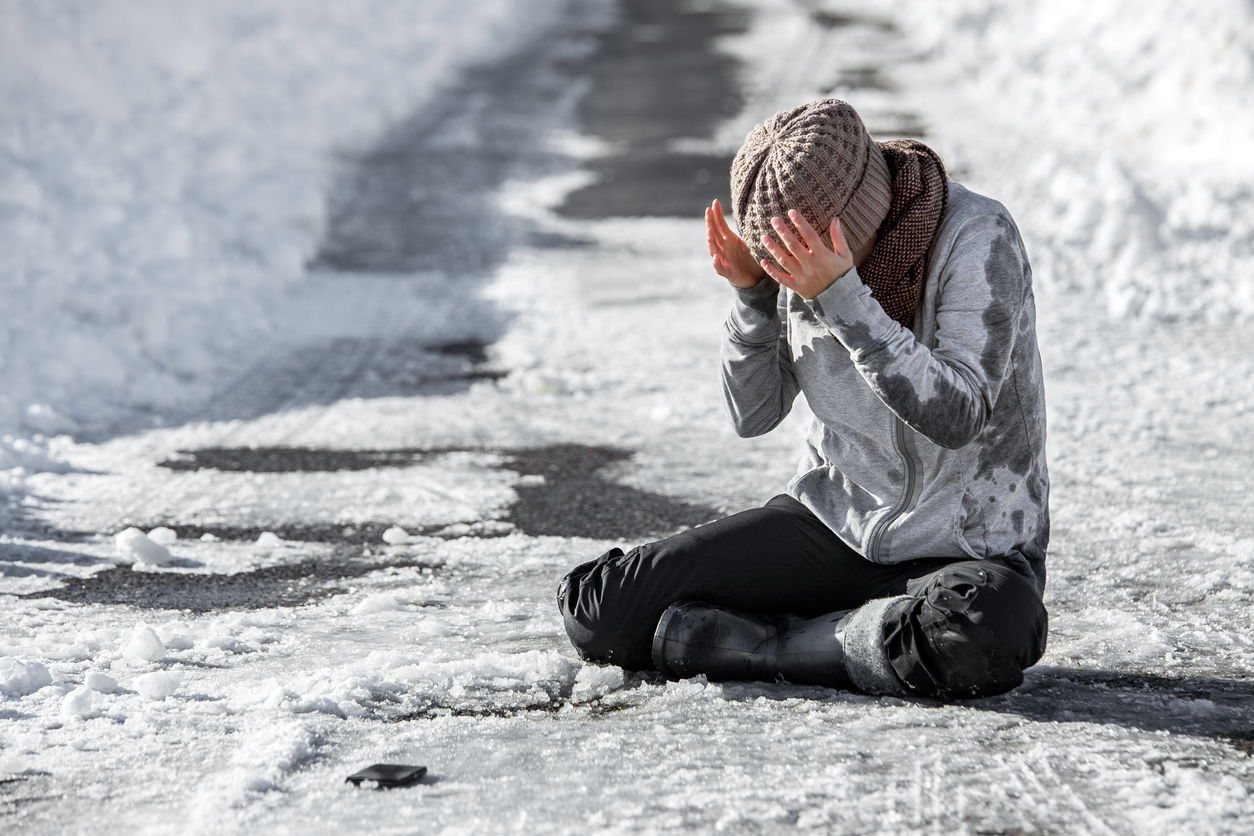 In so many of these cases, it is the property owner who is at fault for failure to maintain the property – or at least adequately warn those invited about the possible hazard.
Types Of Slip-And-Fall Injuries
We recognize slip-and-fall injuries, while far too common, can have a profound and lasting impact on your life. Some of the injuries treated in hospital emergency rooms following a slip-and-fall may include:
Cuts and abrasions. This is especially true if you fall an uneven or abrasive surface, such as on stairs or rough concrete. These are not only painful but can cause scarring an infection.
Broken bones. So many different types of fractures can occur, depending on the nature of how one falls. Hands or wrists can be broken if one uses them to break the fall. Knees and kneecaps are often injured in slip-and-fall accidents. The clavicle, pelvic and tibia (shin) bones are also vulnerable. These injuries are not only incredibly painful, they can require numerous surgeries and leave you out-of-work for extended periods of time.
Head injuries. Although our first instinct in any fall is to protect our head, many Wisconsin slip-and-fall injury victims still suffer concussions or traumatic brain injuries. These injuries may not always be apparent right away (too many unfortunately delay critical medical treatment). It's always a smart idea after a fall to seek a prompt medical assessment – especially if you struck your head – even if you "feel fine." Symptoms of a serious brain hemorrhage may not manifest for hours or even days later, but prompt treatment can help ensure such an injury is promptly detected and treated.
Spinal cord injuries. Injury to the spinal cord is always serious and can be exacerbated if there is not prompt and adequate medical treatment at the scene of the fall. If you are concerned about injury to your neck or back, insist no one touch or try move you and instead call 911 immediately.
Even a seemingly "minor" slip-and-fall injury can leave you grappling with pain and difficulty at work or caring for your family for weeks or months on end. You should not have to cover the cost of those expenses when the catalyst for your fall was negligence on the part of the property owner.
Proving Slip-And-Fall Liability
Like many other personal injury cases, premises liability depends on whether we can prove fault and damages. Negligence is the theory on which these cases hinge. That is:
Many Wisconsin slip-and-fall cases stem from snow and ice accumulation. It should be noted that cities and towns may set forth their own rules for resident snow and ice removal. For instance, The City of Hayward stipulates that while the public works department is responsible for all snow and ice removal on city sidewalks, Ordinance # 113 requires property owners/ occupants to be responsible for sidewalks that cross their property. The ordinance further states that residents have 48 hours after a snowfall to clear the ice, and if those sidewalks are not cleared, they can be issued a warning and subsequently a fine. They can also be liable for injuries caused by a slip-and-fall.
There is also considered a difference between "natural" and accumulation versus "artificial." The Wisconsin Supreme Court has a long history of not holding property occupants or property owners liable for natural accumulations of snow and ice. For an accumulation to be considered "artificial," (meaning liability can attach), there generally must be some evidence of something manmade or a defect in the man-made product that diverted water and caused the condition.
Pedestrians do have a responsibility to use reasonable care in being aware of their surroundings for their own protection. However, as noted in WI Stat. § 895.045, contributory negligence on its own won't be cause to bar a claim, unless one is more than 50 percent responsible.
Tell Us About Your Slip-And-Fall Injury.
We're Here To Listen.
Contact Lein Law Offices for information about your slip-and-fall accident in Hayward, Winter or elsewhere in Sawyer County or Wisconsin by calling toll-free at 715-634-4273.