An explosion last spring at the Husky Energy refinery in Superior, Wisconsin occurred in the fluid catalytic cracking (FCC) unit, federal investigators have determined.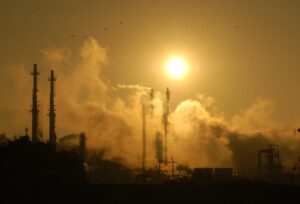 The determination confirms what we reported in May on our Wisconsin work injury blog after the U.S. Chemical Safety and Hazard Investigation Board reported the explosion occurred during a process that heats crude oil to extract gasoline and other petroleum byproducts.
State and federal investigators have yet to determine why the FCC unit failed. The explosion caused the evacuation of thousands of nearby residents. The mayor of Duluth called on the company to remove hydrogen fluoride from the refining process, after safety advocates determined a release of hydrogen fluoride during the explosion could have caused a mass casualty incident. Despite those risks, ABC 5 Eyewitness News reported the refinery has never been inspected by the Environmental Protection Agency.
Our workers' compensation lawyers in Hayward and Winter know oil workers face some of the highest injury risks.
While organizations like American Fuel & Petrochemical Manufacturers point to industry safety practices as reason for a reduction in risks, the fact remains those working in the oil and gas industry face significant risk of serious or fatal injury when an incident does occur. A report published by the Huffington Post found the nation's 141 oil refineries expose workers to dangerous conditions and create deadly explosion risks to surrounding communities.
More than 500 refinery accidents have been reported to the U.S. Environmental Protection Agency in the last 25 years. In some cases, internal documents have revealed that refinery operators find it "economically attractive" to push older refineries to their limits.
Workers' Compensation, Personal Injury and Legal Liability
In most cases, the Wisconsin Workers' Compensation Act (Wis. Stats. 102.01) provides benefits to employees who are injured on the job. These benefits are offered regardless of fault and cover medical expenses, rehabilitation and a portion of lost wages.
While this means an injured worker does not have to prove negligence to receive benefits, it also generally means he is prohibited from filing a civil lawsuit against an employer following work injury.
However, there are many cases in which a company's negligence will determine whether a company can be held liable for resulting damages. Injuries to someone other than an employee can be pursued as a personal injury or wrongful death claim under Wisconsin tort law when it can be proven a company or other at-fault party failed to exercise due care and compensable injury resulted.
Injured workers may also pursue third-party liability claims when someone other than an employer was at least partially responsible. Examples may include an at-fault motorist (other than a co-worker), a subcontractor, a property owner or a product manufacturer.
Husky is currently working on designing a new plant and does not expect the refinery to be back in operation before 2020. The company said switching away from the use of hydrogen fluoride has never been done at an existing U.S. refinery, noting a complete redesign of the process would be required.
The Calgary, Alberta-based company said it has incurred about $53 million in expenses related to the incident, including $27 million in damage to the refinery. About 20 people were injured in the explosion.
Lein Law Offices offers free and confidential consultations. Call 715-403-5045.