It's that time of year when we hear about students injured while participating in sporting events or other extracurricular activities.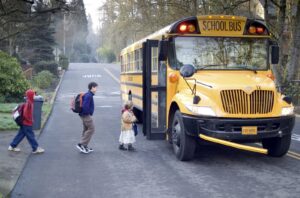 In many cases, injuries occur while traveling to or from a school-sanctioned event or while otherwise participating in an organized activity. These cases are always best handled by an experienced personal injury law firm in Hayward or Winter.
Earlier this month, the USA Today reported a coach and a number of high school bowlers were injured after their bus crashed while returning to West Bend, Wisconsin from a competition in Campbellsport.
Just after Thanksgiving, ABC5 Eyewitness News reported a Girl Scout was released from the hospital after being critically injured in a traffic accident that killed three other scouts and a troop leader. The tragedy occurred when a pickup truck crashed into the group as they picked up trash on a county road. The 21-year-old driver faces four counts of homicide by intoxicated use of a vehicle, as well as other charges. Authorities say he was huffing air duster before the crash.
Our injury lawyers in Winter and Hayward can best help you determine your rights after school injury or injury at an organized event. While schools and those engaged in organized sporting events often enjoy certain immunities from liability for resulting injuries, the laws are complex and such protections are far from absolute.
Liability for After-School Injuries in Wisconsin
These are always complex cases best handled by an experienced injury lawyer.
Potential defenses to such injury claims include (but are far from limited to):
Wisconsin state statute generally limits the amount recoverable by any person for any damages, injuries or death in any action founded on tort (negligence) law against a municipality, including school districts, or their officers, officials, agents or employers, to $50,000. It also provides that no punitive damages may be allowed or recoverable in any such action.
Under Wis. Stat. 345.05, damage claims resulting from  negligent operation of a motor vehicle by a school district employee, are capped at $250,000.
Wisconsin Statutes Section 895.52 provides that a municipality or its officials or employees are not liable for injury to any person who enters the municipality's property to engage in a recreational activity. However, immunity does not apply when a municipality sponsors and event or charges an admission fee.
In 2012, new legal protections were added for schools that allow community use of school property during non-school hours, according to the Public Health Law Center. However, an official recreational agreement must be in place in order for immunity to apply.
Wisconsin Association of School Boards notes Wis. Stats. sec. 893.80 provides municipal and school district immunity for ministerial actions (basic functions and tasks required by law), as well as injuries resulting from known dangers. When claims are permitted against a school district, such awards are also capped at $50,000. A notice of claim must be filed within 120 days of an incident.
In many school injury cases, an experienced Wisconsin injury law firm will work to determine whether other at-fault parties share blame. In the case of the Girl Scouts struck by the at-fault driver, a claim may be made against the driver's insurance company.
Unfortunately, in many cases a driver may lack adequate insurance, or may lack enough insurance to cover all damages, particularly in cases where multiple victims are involved. This can make timely investigation, review and filing of your claim critical when it comes to your ability to collect an appropriate damage award.
Lein Law Offices offers free and confidential appointments. Call 715-403-5045.