Trips along the Wisconsin scenic routes in autumn to enjoy the explosion of changing foliage and crisp air can be invigorating. They are a top tourist draw in the Badger state, with Travel Wisconsin offering the 11 best scenic routes to glimpse the fall splendor. The Hayward Lakes Area in Sawyer County is in the top three – with parts winding through the Chequamegon-Nicolet National Forest, the Blue Hills and the Lac Courte Oreilles Indian Reservation.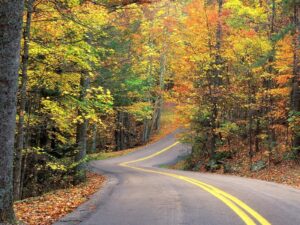 However, Hayward car accident attorneys also want to drive home the point of reaching your destination safely. That means understanding the risks and taking them to heart behind the wheel.
Here, we're offering some important tips to keep in mind as you head out for that autumn drive.
Dangers of Leaves on the Road
Leaves are beautiful on the trees. On the road? They can be a serious hazard – one too often overlooked.
The main problem is when they are wet, they can be extremely slippery, causing a road condition that is very similar to ice. It can be even worse if the temperature drops below freezing because then, you have an issue with frozen leaves covering the road, which reduce your tire traction, making it more likely you'll lose control.
Another issue with foliage on rural roads is that when plentiful, they tend to obscure the painted road markings, so drivers can't be sure they're in the appropriate lane.
The best thing to do upon approaching a roadway covered with leaves is to reduce your speed, which should give you ample time to stop if there is an emergency. Maintain an assured clear distance from the vehicle ahead of you, as required by Wis. Stat. Ann. 346.13. The speed limit is an indicator of the speed, but road conditions in fall frequently require drivers to slow down.
Dangers of Altered Weather Conditions
Autumn is a colder, wetter season, and that means we in Hayward have an increased risk of fog and rain. There may even be frost accumulated on the ground at night that remains in the early morning hours.
Anytime you're driving in the fog, make sure you set your headlights to low beams. Drive slower if necessary and use extra care to brake gently when you're crossing overpasses and bridges (which can frost faster than other types of roadway surfaces).
Dangers of Driving in Fewer Daylight Hours
When the darkness sets earlier and stretches later into the morning, there is an increased risk of collisions, particularly those involving pedestrians (children at bus stops, trick-or-treating, etc.) and bicyclists.
Your job as a driver is to remain alert – and always drive defensively.
Dangers of Distracted Driving in Autumn
Let's be honest: Distracted driving in Wisconsin is a problem year-round, as the state DOT has explained time and again. But driving to see autumn leaves has its own specific challenges – particularly because the whole purpose of the drive is to look at sites off the roadway.
If you're the driver, you may have to accept that your site-seeing will be more limited compared to your passengers. Pay special attention to the fact that many of these rural scenic roads have winding bends and other drivers may not be paying attention either.
And please: Put the phone down. If you absolutely MUST take a photo, have your passenger take it or pull over at a safe location at the side of the road.
If you are injured in a car accident in Hayward, our dedicated injury lawyers can help you determine your best course of legal action.