Work injury attorneys in Hayward understand manufacturing industries are increasingly investing heavily in Wisconsin and other regions of the Midwest. This is particularly true in rural areas, with companies promising better pay, skilled labor opportunities, more updated facilities and incentives to keep graying workforces from retiring.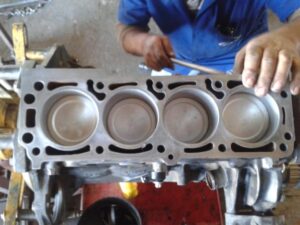 Foxconn recently announced its plan to invest $10 billion in a "world class manufacturing campus" in Southeast Wisconsin within the next two years. In the meantime, some manufaturers like Wigwam Mills in Sheboygan are offering cash bonuses to workers who bring in new recruits who stay at least two months, while Minnesota manufacturers are busing in workers from Wisconsin to fill the jobs they can't on their own.
One of the biggest impediments to the growth of these firms? A long-standing (and reasonable) concern that manufacturing jobs are dangerous. The National Safety Council and Travelers Insurance reports an estimated 100,000 workers in manufacturing becomes ill or is injured on-the-job each year, which works out to 4 in every 100 manufacturing workers.
Top 5 Injuries in Manufacturing Workplaces
While employers have both the legal responsibility and power to ensure work sites are free of an unreasonable risk of known or foreseeable dangers (something it is hoped these larger firms will continue to move forward on as they expand their reach in Wisconsin), the reality is manufacturing plants have a long history of being riddled with risk.
As identified by researchers with Travelers, the U.S. Bureau of Labor Statistics and the National Safety Council, the top five injuries in manufacturing are:
Contact with an object – 40 percent. This is often caused by improper machine guarding, contact with powered industrial trucks and unsafe lockout/ tagout procedures.
Overexertion – 24 percent. This is often the result of lifting, pulling dragging heavy loads, often repetitively via awkward angles in extreme heat or cold conditions.
Slips, trips and falls – 19 percent. 
Repetitive motion – 8 percent.
Contact with harmful substances – 6 percent. This would include live wires, chemicals and bio-hazards.
It's imperative that manufacturing companies be proactive in developing strategies that prevent on-the-job injuries.
When they do not, our experienced Hayward workers' compensation attorneys (also serving the Town of Winter) can help workers in these industries recover no-fault compensation. In some instances, Hayward personal injury claims can be filed after a work injury if a third party was negligent.
You should know: Whether you're filing a workers' compensation claim or a third-party liability claim, you will not pay out-of-pocket upfront attorney's fees, as our injury lawyers work on a contingency fee basis. This also means that we're frank with potential clients upfront about whether they have a strong case, which is good news for you because it means you don't risk wasting you're own valuable time.
Reducing Manufacturing Safety Hazards
Identifying Wisconsin workplace hazards in manufacturing facilities is a good first start. However, employers need also prioritize preventative measures.
The Occupational Safety & Health Administration has identified a number of ways the manufacturing industry (gradually improving with its safety standards the last several decades) can continue to get better on this front. These include:
Prioritizing safety in leadership.
Hiring only supervisors who value worker safety efforts.
Establishing the best safety practices for a given industry. (This primarily involves maintaining live machinery, curbing worker falls, and identifying potential risks for crushing or moving equipment hazards.)
Making safety procedures easy-to-follow.
Consistently reinforcing your safety expectations.
If you are injured at work in your manufacturing job, we can help you examine your legal options.