Wisconsin residents are use to facing more risks than most when it comes to winter weather.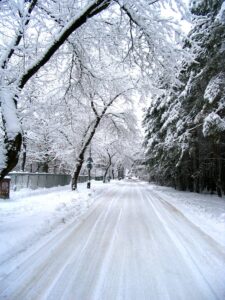 With average annual snowfall of more than 4 feet, Wisconsin is the nation's 12th snowiest. However, when measured by number of annual snow days (39), Wisconsin is the nation's 6th snowiest. Staying safe on the roads this winter begins with preparation. Have your car serviced and make sure your tires are up to the task of navigating wet and snowy roads.
University of Wisconsin-Madison reports more than 18,600 motor-vehicle crashes have occurred over the last 5 Wisconsin winters.
Wisconsin Department of Transportation offers a number of safety tips, as well as updated travel and road conditions at www.511.wi.gov.
Our injury lawyers in Winter and Hayward know motorists can take a number of measures to improve safety in winter-driving conditions.
Vehicle condition: Winter-driving safety begins with having your vehicle properly serviced. But it also means clearing your windshield and other windows so you can see properly, as well as removing accumulated snow and ice from your hood, roof and trunk.
Reduce speed: Allow extra travel time. Allow more following distance and greater stopping distance.
Use low beams: Even during daylight hours. When driving in rain or snow, high beams will reduce your visibility, as well as the visibility of oncoming motorists.
Snowplow safety: Don't crowd the plow; remain at least 200 feet behind a plow truck. Typically, this is the best spot to travel anyway. Passing a plow creates a hazard unless traveling on a wide divided roadway. Even then, conditions are typically worse in front of a plow.
Be prepared: Always travel with a charged cell phone and at least half a tank of gas. Carrying an emergency kit in the trunk is also a good idea, including heavy clothing, blankets and basic tools, including a shovel.
Ice: Road ice or black ice can create unmanageable road conditions. Vehicles cannot maneuver when none of the tires have traction. Bridges and overpasses are first to freeze. Drivers should understand how to react to ice (typically by steering gently against a slide while avoiding hard brake use).
In most cases, weather is not to blame for a collision. The actions or reactions of one or more drivers is to blame. The law doesn't hold the weather responsible. The law holds at-fault drivers accountable. Weather may be a factor (even a critical factor), but causation and recovery will focus on the liability of involved motorists. Documenting weather conditions can be an important part of building a case, and early consultation with an experienced injury law firm can best preserve evidence of conditions at the time of a road incident.