What's the real answer to what should come first. Your Bankruptcy or Your Wedding?
You're seriously in debt and considering bankruptcy. However, you're also engaged to be married. The key question is whether you should file for bankruptcy before or after your wedding. The related questions are whether your marriage will impact your bankruptcy and how the bankruptcy will affect your spouse if you file after you're married.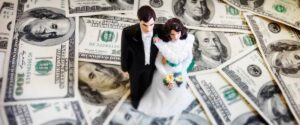 If the person you're marrying doesn't have serious debt issues, it's likely best to file for bankruptcy before you say "I Do." They aren't legally responsible for any debt you've incurred on your own prior to the marriage. However, since Wisconsin is a community property state, they will be responsible for debt you take on after you get married. If you still have problems with spending above your means, that's going to impact them.
Another advantage of filing before you get married is that only your income will be considered. That will make it easier to qualify for Chapter 7 bankruptcy. Otherwise, your only option may be Chapter 13 (which also has its advantages).
What about your partner's credit? If you file for bankruptcy as an individual, whether you do it before or after you get married, it won't impact their credit. However, if the two of you try to get a mortgage or other type of credit product, like a car loan or a joint credit card, you may run in to problems. If you are approved for a joint loan, you'll probably be paying more in interest and deal with less favorable terms.
If your fiancé is also facing a lot of debt, there are advantages to the two of you filing for bankruptcy jointly after you get married. This can save you legal fees, court costs and time. However, if you file jointly, both of your assets might need to be sold. If only one of you files, you can protect the other one's assets.
Whatever you choose to do, it's essential that you're both honest with each other about your debts and your financial situation. Starting a marriage with a bankruptcy isn't ideal. However, it's even worse when one person doesn't know about their partner's money problems until they're married (or even close to it).
Every situation is unique, so it's wise to discuss the pros and cons of when to file for bankruptcy with an experienced attorney.