Back-to-School is a dangerous time for pedestrian and bicycle accidents as well as accidents involving school buses and teen drivers.
Even parents in pickup and dropoff lines pose serious collision risks. Our personal injury lawyers in Hayward and Winter encourage motorists to pay extra attention as students return to class throughout September.
Wisconsin School Bus Accidents
With the addition of flashing yellow lights on school buses, bus drivers and law enforcement are seeing the same phenomenon they see when motorists approach yellow traffic signals, according to a column published by Kewaunee County Sheriff Matt Joski in the Green Bay Press Gazette.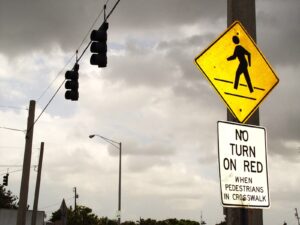 Too many motorists are speeding up to get past before the red lights come on.
Wisconsin law requires motorists to slow down and prepare to stop for a school bus with yellow flashing lights. Red flashing lights mean a motorist must stop and wait no closer than 20 feet from a bus. The yellow lights will start flashing about 300 feet before a bus stops and the red lights will continue flashing during the loading or unloading of riders.
Lt. Karl Mittelstadt of the Wisconsin Highway Patrol states if a vehicle does not stop for a school bus displaying its red warning lights, the penalty is $326 and four points will be assessed to the driver's driving record.
While statistically school buses are among the safest modes of transportation, risks can be increased by poor bus maintenance and inexperienced bus drivers. As classes begin this September, school districts are working hard to hire enough bus drivers. NBC Channel 4 in Milwaukee reports that Lamers Bus Lines is still looking to fill 25 driver positions in three school districts in Southeast Wisconsin.
Back-to-School Pedestrian Accidents
Sheriff Joski noted pedestrian accidents are another serious risk for students heading back to class as motorists will encounter many more walkers on the streets of neighborhoods and main roads, particularly as students make their way to and from class during morning and afternoon rush hours.
Wisconsin law requires motorists to give the right of way to pedestrians in crosswalks. Motorists are also urged to watch for pedestrians crossing from between parked cars outside crosswalk areas, particularly at midblock.
Parents are urged to walk the route several times with their kids, and to discuss safety precautions.
Unfortunately, teenagers are no safer once they get their driver's license. Motor-vehicle accidents are the leading cause of death for those ages 15 to 24. Statistically speaking, your teenager is more likely to die in a traffic collision than by any other means. Talking to your teen drivers about expectations and consequences is a critical part of a young driver's development.
By taking a few extra moments to exercise caution, we can help reduce the accident risks this autumn. It's a good time of year for the reminder, as we head toward winter-driving weather and the end-of-year holiday season.