Filing for Chapter 7 Bankruptcy in Wisconsin has some benefits and some downfalls.
If you are having financial difficulties in Wisconsin, it is a good idea to consider all your debt-relief options, including bankruptcy, to decide on the course of action that will best serve your situation.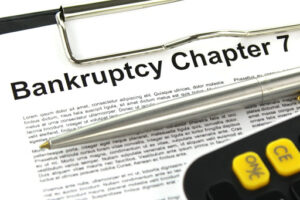 Depending on your income and overall financial situation, you may qualify for Chapter 7 bankruptcy. There can be a stigma attached to filing for bankruptcy and specific challenges involved in filing for Chapter 7. However, according to FindLaw, there are ways that it can benefit you as well.
Cons of Chapter 7
The major disadvantage of Chapter 7 is that it is a liquidation plan that may require you to sell at least some of your assets. It will have a negative effect on your credit, remaining on your report for 10 years. Certain financial obligations, such as mortgage liens, student loans and child support, will still remain even after discharge of the rest of your debts. You may make too much money for Chapter 7, meaning that you need to file Chapter 13 instead.
Pros of Chapter 7
Ultimately, many people who file Chapter 7 do not need to sell any assets at all. This is because there are exemptions in place that prevent the sale of certain assets, and often these are generous enough to allow you to retain more than just the essentials. While bankruptcy can have a negative effect on your credit, so does excessive debt. Once your outstanding obligations are no longer a factor, you can work to start rebuilding your credit. Though Chapter 7 does not discharge all debt, it may relieve your burden sufficiently to allow you to pay your remaining obligations.
Rarely, a debtor qualifies for both Chapter 7 and Chapter 13. If this applies to your situation, you have the choice between the two. However, you should not count on this contingency as it does not happen often.
The information in this article is not intended as legal advice but provided for educational purposes only.