All of us at Lein Law Offices wish you a happy Thanksgiving and a safe and enjoyable start to the holiday season.
Wisconsin Department of Transportation reports peak travel period will be between noon and 8 p.m. on Friday and Sunday following Thursday's Thanksgiving gatherings. Ideally, you should plan to travel outside peak times. Motorists should also be aware of ongoing road construction, as crews attempt to finish jobs before the arrival of winter weather.
You can check status of construction along your travel route by visiting the Department of Transportation's 511 Wisconsin Construction Projects.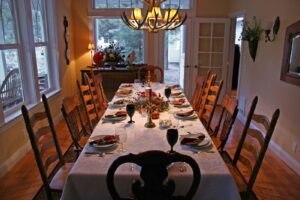 However, the upcoming Thanksgiving weekend only signals the beginning of the  holiday travel season.
"Traffic crashes tend to peak over the next couple months due to several factors including an abundance of holiday travelers and hunters, the potential for rapidly changing weather, decreasing daylight, and increasing deer activity," said David Pabst, director of WisDOT's Bureau of Transportation Safety. "It's the responsibility of every driver to watch their speed and following distance, always drive sober and alert, and ensure everyone is buckled up."
Our injury lawyers in Hayward and Winter posted recently about the increased risks of driving after dark.
Winter Weather: Accuweather is predicting a crisp, dry Thanksgiving holiday. But parts of Wisconsin have already seen measurable snowfall and winter weather is on its way. Now is a good time to get your vehicle serviced, with particular focus on brakes, tires and battery, to make sure you are ready for Wisconsin winter.
Aggressive Drivers: Let's face it, holidays are often a time of joy but also of increased stress. Being a safe, courteous driver is among the best things you can do to avoid being involved in a motor-vehicle accident. More than one-third of all crashes are blamed on some form of aggressive driving, including speeding, failure to use signals, and abrupt lane changes.
Distracted Driving: Holidays also bring increased distraction, from both inside the vehicle as well as outside distraction, such as Christmas lights. Early darkness also increases the chances that momentary distraction will result in a collision. Put the phone down and drive.
Drunk Driving: In today's world, with Uber and other ride-sharing services readily available, there really is no reason to drive after drinking. One-third of all fatal crashes involve a drunk driver, and the risks peak through playoff football season and the year-end holidays.
Safe shopping: Some of the most overlooked risks are likely to be found at your local mall or big-box retailer. Parking lot accidents are a significant threat, as crowds jostle for space. Kids are at particularly high risk. Teach your children about the dangers of backing vehicles and make it a practice to hold their hands while walking in parking lots. Likewise, single shoppers may be at increased risk of theft or assault, particularly after dark. Plan your route. Park close to a well-lit, populated area, and shop with a friend whenever possible.
Defective Products: We bring more new products into the home during the holidays than at any other time of the year. Each year, the Consumer Products Safety Commission recalls hundreds of dangerous, defective products. Many of these products are marketed to children. The Consumer Product Safety Commission offers holiday toy shopping and other safety tips.
Taking a moment to recognize the risks, and discussing safety with family and friends, can help make the holidays a joyous time of year.